Pastor Scott Maxwell
Pastor Scott was called to the ministry after a career in the hospitality industry. He entered the Lutheran Theological Southern Seminary (LTSS), where he earned a Master's in Divinity (M.Div.) degree and was ordained into the Evangelical Lutheran Church in America (ELCA) in 1999.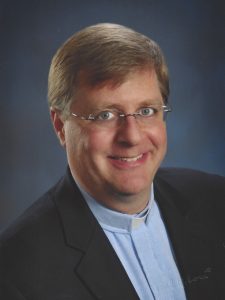 He served three congregations prior to joining our St Mark's family in 2016. His favorite Bible verse guides his passion to serve in ministry: "He has told you, O mortal, what is good; and what does the Lord require of you but to do justice, and to love kindness, and to walk humbly with your God?" (Micah 6:8.) Pastor Scott's passion is to empower and equip those he leads for the work of ministry in the community. Striving to always be relevant, his weekly preaching seeks to relate the ancient stories of the Bible with the challenges we face today. Residing in north Wilmington, Pastor Scott shares life with his wife and best friend, Candy. Together, they enjoy being grandparents, exploring Delaware and Philadelphia, Pennsylvania, trying unique cuisines, watching the top 100 movies of all times and being taken on walks by their two golden retriever dogs, Jackson and Axel.
St. Mark's Ministry Staff Team
Our congregation is blessed to have a dedicated staff, working together to coordinate and provide support for our services, music ministries, outreach, care of the facility and many other activities.
Gail Rodger, director of faith formation. Gail has been serving at St. Mark's since 2010. She coordinates many educational activities for the congregation, including Sunday school, adult education, retreats, special events and

Gail Rodger

outreach. A favorite verse is Galatians 2:20: "I have been crucified with Christ; and it is no longer I who live, but Christ lives in me. The life I now live in the flesh I live by faith in the Son of God, who loved me and gave Himself up for me."
John Lasher, interim music director.

John Lasher

John plays organ, piano and keyboards and serves at both the 9 a.m. and 11 a.m. services. He also provides special music during many events throughout the year. He grew up in Newark, Delaware, where he was active in church music starting at the age of 7. He earned a bachelor's degree in Music Composition from Cairn University, where he also studied Bible and theology. In addition to his musical endeavors, John is an accomplished actor, having appeared in featured roles with the Wilmington Drama League, Milburn Stone Theatre in Cecil County, Md., and with Beacon Theatre Productions in Philadelphia. He builds computers as a. hobby, enjoys cooking and drives for Über.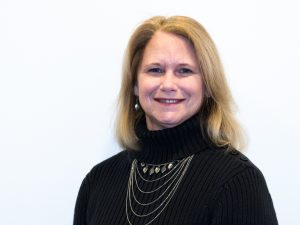 Cheryl Denneny, office manager. Cheryl juggles the details of just about everything and will most likely be the one who answers the phone when you call the office. She can assist with scheduling questions and point you to the right person to get the information you need. Cheryl volunteers with the Presbyterian Women in the New Castle Presbytery and serves on the Board of Directors with her husband, Ray, for the Delmarva Emmaus and Chrysalis Community. She and Ray have four children, six grandchildren, two cats and one dog.
Rick Johnson, sexton. Rick maintains our facilities, keeps things running smoothly and ensures the property is in good

Rick Johnson

repair. He is a widower with two adult children. He works as a conservation technician for Wilmington State Parks and loves to read, travel and cook.
Sabrina Mackey, nursery director.

Sabrina Mackey
St. Mark's Leadership Council

The St. Mark's Leadership Council works with Pastor Scott to establish congregational priorities and policies. Officers include:

Lois Broeker, president
Kitty Dombroski, vice president
Peg Bradley, secretary
Karen Hansell, financial secretary

Committees and Council Liaisons:

Dave Herrmann, worship
Kyle Schuldt, Christian service
Brian Schmidt, communications
Barbara Sheridan, evangelism
Bill Fuson, property
Tim Bishop, treasurer
Faith Patterson, Christian education

Pastor Scott Maxwell with Council members Bill Fuson, Barbara Sheridan and Karen Hansell